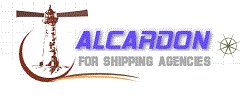 What we do

SHIP AGENT & PROTECTING AGENT:
Protecting agency, full agency, crew changes, spare parts clearance and ship's clearance in/out, tallying & supervision on loading /
discharging cargo .
FORWARDING & HANDILNG CONTAINERS:
We has very well experienced staff in the filed of forwarding & handling containers, our staff can forward & handle & manage & warehouse, all the procedures related to such service for all types of vessels carrying containers to Libya .

What we do

SHIP CHANDLERS & BUNKERS:
Very competitive price and prompt supply of provision, fresh water, fuel, spare parts, ets .
PARCELS:
Delivery and receiving spare parts parcels and documents (charts & books).
Parcels from /to vessel in due course after receiving and customs clearance.

Our services


CUSTOMS CLEARANCE:
At alllibyan ports we provide all services related clearance formalities, tariffs commodity interpretation and prepare all documents required and delivery in quick and safe manner.
LAND TRASPORTATION:
We offer arrangements with competitive prices and proper time services for land transportation to carrier your cargo from discharging port to the final destination, or from warehouse to loading port .